Centers for Apologetics Research serving Christians in Eurasia and Latin America
Choose a ministry below to learn more about what God is doing in that region of the world.

Strategic regions of the world where CFAR is developing new outreaches to equip the saints.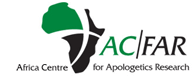 AFRICA CENTRE FOR APOLOGETICS RESEARCH
God has opened the door for CFAR to plant East Africa's first countercult research and outreach ministry.




Indigenous outreaches in special partnership with CFAR
ETHIOPIA: The Evangelical Society for Apologetics
PHILIPPINES:
The Bereans
ROMANIA: Romanian Christian Resources
Special USA partner ministries include:
• Apologia
• Institute for Religious Research