CULTS (GENERAL)
• THE CULT OF BRANHAM
• CULTS AND YOUNG PEOPLE
• FACING THE FACTS ON SEVENTH-DAY ADVENTISM
• CULTS IN CHINA
• REFLECTIONS ON JONESTOWN


JEHOVAH'S WITNESSES
• A STRANGE & WONDERFUL LOVE STORY
• TO DIE FOR A LIE


MORMONISM
• The Mormon Church and the African
• FROM JOSEPH TO JESUS
• WITNESSING TO MORMONS
• The Lying Prophet and the "Mormon" Olympics


MISSIONS
• CONFRONTING CULTS ON WORLD MISSION FIELDS
• HARDNESS OF HEART
• IS OURS A HOPELESS CAUSE?
• THANKSGIVING AND SACRIFICE
• UNCONVENTIONAL WARFARE
• WHOSE MISSIONARY ARE YOU?


DISCERNMENT
• ARE THERE APOSTLES TODAY?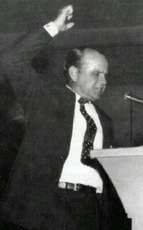 It may not be on your radar screen, but the cult of William Branham poses an active threat to the cause of Christ around the world. Month by month, the Centers in the former Soviet Union receive pleas for assistance like these:
Your articles and research materials really help us to "contend for the faith once for all delivered unto the saints." Here in the Caucasus the movement of latter-day prophet William Marrion Branham is growing. Please send me materials that examine the prophet's words and deeds in the light of the Bible.